LARSSON DIME NOVEL COLLECTION
DATES:
November 30th - December 16th
FEATURED ESTATE AUCTION ITEMS
ABOUT THIS ESTATE AUCTION
The Larsson Dime Novel Collection contains 2000 plus Dime Novels and Story papers. Included in our first, of several, online auctions are publications from Munro's Ten Cent Novels, Tip Top Weekly, Secret Service, Pluck and Luck, Diamond Dick Jr., Old Cap Collier Library, Young Broad Brim Weekly, Brave and Bold, Nick Carter Stories, The Old Log Cabin, Beadles Pocket Library, Beadle's Half Dime Library, Beadle New York Dime Library just to name a few!!
These Dime Novels have been examined by Professor Marlena Bremseth, Editor of Dime Novel Roud Up and Professor of Popular Culture Literature. She found that most are authentic originals, though some were found to be reprints of certain dime novels produced by Charles Bragin's Dime Novel Club and the M. C. Ivers and Arthur Westbrook Publishing companies. In terms of condition, Professor Bremseth stated that considering their ages (many are 100 or more years old), most of the items are in fair to good condition, meaning that while some are somewhat worn or bent, perhaps tom at the edges, browned and/or brittle, others possess very little damage overall.
Please see attached letter of authentication from Professor Bremseth for more details.
If you are new to Dime Novels here is a brief history from The USF Libraries (https://www.lib.usf.edu/special-collections/):
During the mid 19th to the early 20th century, dime novels, penny dreadfuls, and story papers flourished in England and America.
Dime novels and story papers targeted a youthful working-class audience with their thrilling, stereotyped tales of Wild West adventures, master criminals, detective stories, historical romances, and working girls and boys in which virtue was rewarded and preserved.
Once the bane of the middle class, these little books were considered the corrupters of youth and stepping stones on the path to perdition. Today, dime novels illustrate the reading tastes of an increasingly literate working-class audience, as well as developments in early 20th century printing. They also provide useful resources for scholars interested in popular history and culture, women's studies, and English and American Literature.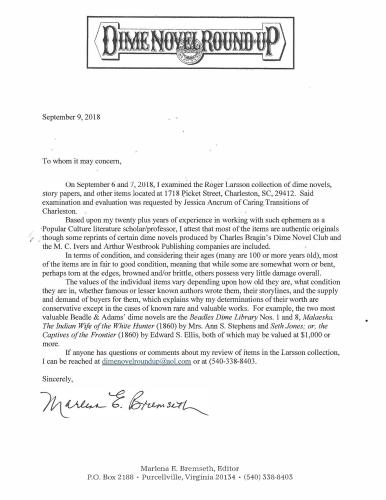 ESTATE AUCTION PHOTOS